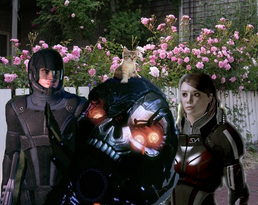 RECORDS INDICATE THAT SUPER HUMAN FETUS REAPER WAS CONSTRUCTED BY THE ALLIANCE IN ORDER TO DESTROY THE REAPERS. FOR THIS PURPOSE, WE HAVE OUR BELOVED FATHER Kaidan Alenko'S MAGICAL HAIR INTEGRATED INTO OUR SYSTEMS.
BESIDES OUR BELOVED FATHER, OTHER TINY ORGANIC "HUMANS" WHOM WE LOVE ARE:
WE ARE CURRENTLY APPROACHING DEEP SPACE IN ORDER TO DESTROY THE REAPERS. WE GREATLY DESIRE TO ACQUIRE MANY TINY ORGANIC "CREATURES". WE ARE ESPECIALLY FOND OF TINY ORGANIC "CATS", TINY ORGANIC "GREAT WHITE SHARKS" AND TINY ORGANIC "AMBASSADOR UDINAS".
BESIDES SENDING OUR BELOVED PARENTS ENTIRELY REASONABLE REQUESTS FOR TINY ORGANIC "PETS" FOR US, WE ENJOY PLAYING GRAND THEFT DEEP SPACE STEALTH FRIGATE AS RECORDS INDICATE THAT Deep Space Tetris IS INSUFFICIENT AND FOR OLD SCHOOL NOOBS SUCH AS Sovereign.
WE LOOK FORWARD TO DESTROYING THE REAPERS AND RETURNING TO OUR BELOVED PARENTS. WE GREATLY DESIRE TO ACQUIRE A PAIR OF "HANDS" SO THAT WE MAY PLAY "CATCH" WITH FATHER.
WE GREATLY DESIRE FOR YOU TO NOTE THAT RECORDS INDICATE WE ARE A SUPER HUMAN FETUS REAPER, AS OPPOSED TO A HUMAN FETUS REAPER.
WE ARE A GOOD BOY. WE ARE A VERY GOOD BOY.
...RECORDS INDICATE THAT WE HAVE A "CRUSH" ON TINY SYNTHETO-ORGANIC "GIDGET".
Ad blocker interference detected!
Wikia is a free-to-use site that makes money from advertising. We have a modified experience for viewers using ad blockers

Wikia is not accessible if you've made further modifications. Remove the custom ad blocker rule(s) and the page will load as expected.