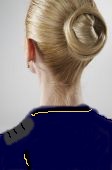 "I challenge you to find a parent who is more proud of her son."
Hannah Shepard is the mother of John Shepard and the Captain of the Orizaba. She has spent her entire adult life serving the Alliance dutifully. She is a capable, efficient woman with an impressive record, something she's very proud of.
Early Life and Career
Edit
Hannah Janssen joined the Alliance at the age of 18. After basic training she was recruited into the Strategic Tactics program in the Alliance due to her expert attention to detail and ability to create strategically sound battle plans.
She met her husband, Paul Shepard at the age of 20 and wanted nothing to do with him at first, focusing completely on her career. He eventually wore her down and they were married. Their first and only child followed soon after.
Balancing her career, marriage and motherhood was extremely important to her and extremely challenging. She often regrets not being able to spend as much time as she would have liked with John as he was growing up.
Though their marriage was often challenging, Hannah was very much in love with Paul and devastated by his rather sudden passing several years ago.
Hannah is a wine snob.
Hannah and Admiral Hackett are old friends from their early days in the Alliance.
She was crushed at the news of her son's death two years ago, only to be elated and confused when he turned up alive recently.
She recently visited John aboard the Normandy and was happy to spend some quality time with him. She was also able to meet and interact with several members of the crew, including Ashley Williams who she very much approved of.